Addres:No.6, Nanhua Road,Xinji City ,Hebei P.R.China
P.C.:052360
Tel:+86-311-87503088 87503066
Fax:+86-311-83259836
Contact Person:Zhang Guofang , Qiao Guangyuan
E-mail:taida@hi2000.com
chinachem@hi2000.com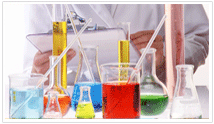 XINJI CITY TAIDA SINOPEC CO., LTD. is a civilian-owned enterprise specialized in developing, trading and producing medical intermediates and petrochemical products, occupying 40,000 square meters and with five workshops,an office building and testing centre. The main products cover hydroxyacetic acid(glycolic acid), Ultraviolet absorbent (UV-531 , UV-9 , UV-0), petroleum barium sulfate, petroleum sodium sulfate , Antirust agent 704, diesel locomotive oils, emulsion oi....

Including: hydraulic transmission oil ...
Include: glycolic acid UV absorber ...
Include: Glycine DL-Methionine ...