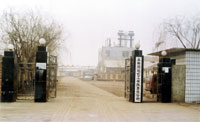 Wuqiao Shunda Chemical Co., Ltd. is located in the Wuqiao country. Our products include 1-aminoanthraquinone, 1-nitroanthraquinone, WQ-A cooking auxiliary agent for papermaking, magnesium sulplate and potassium permanganate. We have experienced work team and quality product. We are good related to Shenyang chemical institute, Tianjing University, Shandong University. We have become very popular in China. Customers are highly satisfaction with our products.
Our company is located in the southeast of Hebei province, the Jingfu highway passes our company. There are 2 km and 4km from Wuqiao station of Jinghu railway and Wuqiao exit of Jinghu expressway. It is 200km form Tianjin port. It is 1 km from Wuqiao acrobatics world. We enjoy good location.

Zien Du
The company covers an area of 50,000 sqm, the building area is 25,000sqm. We have a total fixed asset of 15 million Yuan and 150 employees, 50 of whom are technicians. We produce 2000 tons of 1-aminoanthraquinone every year.
Customers are number one priority. We can produce the 1-aminoanthraquinone and 1-nitroanthraquinone according to your demand.
Chairman and General manager Du Zien and all the staff welcome your business.