At the foot of charming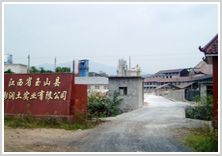 Sanqingshan Mountain, by the beautiful Jinshan Stream, there is a shining pearl--- Jiangxi Yushan Bentonite Industrial Co.,Ltd.
Originally built in November o of 1997 and founded in May of 1999, Jiangxi Yushan Bentonite Industrial Co.,Ltd. is the Jiangxi first, China largest bentonite series manufacturing company. It mainly produces 1020#, 1040# and 1060# activated bleaching earth. Encompassing research, development and production, our company owns scientific technological process and first-grade product testing equipment. Our company's "Weichen", "Jiejing" brand activated bleaching earth products have received awards for the following: "one of the top 100 products in the national activated bleaching earth market", "China first chosen trademark for plant oil decolorizer" and "Jiangxi quality product" etc..
Our company has two subsidiary factories: Yushan and Leping. There are now 450 employees in our company, including 38 administrators, 48 technicians and 35 salespersons. 36 of them have medium or senior professional titles. With a fixed assets of RMB 20 million, a current assets of RMB 12 million, our company has a factory area of more than 100mu and factory building area of 30,000 square meters. Production capacity is 50,000t per year. Inspected by Hygiene and Disease Control Department, our products are in accordance with food sanitation standard. Our company has 28 pulping pools, 80 rinse tanksŁ¬9 groups of pressure filters, 5 drying production lines, 3 sets of 5R Raymond machines and 8 sets of electrostatic dust collection equipment. Besides complete and fine testing equipment, our company has abundant bentonite ore resources in Yushan county with good quality. Workable reserves of the ore deposit are about 30,000,000t, which has guaranteed quality products for most clients. Since company's establishment, our company's products have characteristics of stable quality, high decolor powder, good filtering quality, low residual oil of filter cake, no remaining of aflatoxin, high brightness of finished products and good stability. Our products are well received by clients for their high quality and low integrative cost. Our company has become qualified supplier for many international and domestic enterprises. Our products are exported to the US, Southeast Asia as well as different parts of our country.
Our company pays great attention to environmental protection benefits and investment as well as the improvement of product quality, the establishment of reliable trademark and the improvement of economic benefits. Our company has successively invested RMB 300 million in purchasing 8 sets of electrostatic dust collection equipment. Our company has set up 2,600 square meters waste waste treatment and reaction cameras, which has ensured standard discharge of waste gas, dust and waste water.