Hengshui Lu Dao Gelatin Co., Ltd. is located in both sides of National highway 107 in Hengshui city. Which passes through the Jingjiu and Shide railways. It is close to Huanghua port and Tianjin new harbor. It enjoys good location.
Our company were founded in 1963 as a gelatin manufacturer in north China. The company covers an area of 100mu. We produce 6,000 tons products every year. We have experienced work team and advanced facilities. Our products include industrial gelatin, medicinal gelatin and bone glue. Our productive quality meets the international standard. We have become very popular in Southeast Asia, Japan, Korea, Vietnam, Malaysia, EU and USA.
We are entering an IT age; the new technology brings us new communication method. We will provide qualified product and excellent service for you. We welcome your business.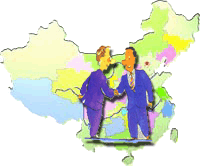 Properties: gelatin is a polymer of polypeptide. Its structural formula is


R is amino acid polypeptide macromolecule. It is granular matter made of fresh cattle skin and pig skin. We can extract hydrolysis macromolecule animal protein from it, the purity is 98%. It has 18 kinds of amino acids too.
According to material, production method and quality, the gelatin products include edible gelatin, medicinal gelatin, Industrial gelatin, bone glue and photo gelatin, the low viscosity and low ash industrial gelatin for extraction of hydrolysis macromolecule animal protein, and the industrial gelatin for feedstuff additives.
Gelatin is a half transparent granule and power without any taste and odor. Its color is white or light yellow. Its MW is 10,000-70, 000, the high grade gelatin may be 100,000-150,000. The gelatin has low methionine and high glycin, proline and hydroxyproline.
Gelatin is hard to be dissolved in water, but it can absorb 5 -10 times water of its weight. It can be dissolved in warm water. It can form the gel after frozen. The MP is 24-28 centi degree. Its solubility is similar with freeze temperature. Affected by moisture, temperature and humidity, the gelatin may go bad easily.