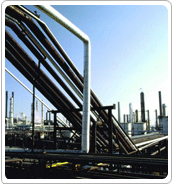 Established in 1976, Nangong Shenghua Chemicals Co.Ltd. is a key chemical enterprise of Hebei province. Located in Nangong Economic&Technological Development Park,Nangong Shenghua Chemicals Co.,Ltd.enjoys good location and convenient transportation for we are only 15km away from the downtown of city and very close to Xingde Highway and Qingyin expressway.
Covering an area of 100,050 sq.Meters,we now have 71,00 sq.meters of buildings,CNY 80 million of fixed assets and over 300 employees,60 of them are professional technicians.
We have 9 production line which covers all our major products like TAA,TAA-OL,PMP,TAD, HALS-622,HALS-770,HALS-292,Polymerization inhibitor 701,DMS etc.Annually capacity for TAA is 10000mts,TAA-OL 6000mts,PMP 1000mts,TAD 2000mts,HALS-622 1000mts,HALS-770 2000mts,HALS-292 1000mts,Polymerization inhibitor 701 1500mts,DMS 3000mts.We are largest producer of TAA in China.These HALS light stabilizers are widely used in rubber,plastic,coating etc.without pollution,low energy consumption,high value added products and advance technology in domestic market.