Originally established as Hebei Zhaoxian Xunda Chemical Co.,Ltd., Shijiazhuang Xunda Chemical Co.,Ltd. was founded in 1992. The company has developed rapidly with continuous hard working of staff members and tremendous support of the society. Our company owns a total area of 30,000m2 including 10,000m2 building area. Yearly production capacity for lead chrome yellow(middle chrome yellow, lemon chrome yellow, light chrome yellow, deep chrome yellow) is 3000T, for molybdate orange 800T, for lead oxide (red lead, yellow lead ) is 4000T and for aluminum pigment (floating type, non-floating type, flashing type aluminium paste) is 2000T. Fine chemicals of dyeing additive, rubber additive and paint additive are being developed now.
Our company owns integrated testing equipment and powerful technical strength. By improving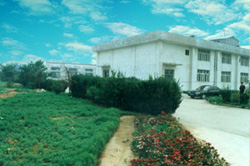 technology and production equipment, pigments can be produced on the clients' requirements and nonstandard pigments can be produced on the clients' requirements. Spectrum photometer made in Datacolor International Company is used to measure and match color to assure less colour nuances. At present, products of our company are used in the industries of paint, printing ink, coating, chemical, building material, rubber, plastic, metallurgy, pesticide, printing etc.. Trademark enjoys a high market reputation and is sold all over the country. In recent years, products are sold to Southeast Asia, Middle East, Europe and Australia in batch. By the year of 2002, export volume has reached a half of output. Quality and credit are well received.
Success depends on aborative management, excellent quality and circumspect service. We will face the 21st century with more illustrious achievements. This needs not only hard working of each staff members of our company but also help and support of friends in different lines of the society. Herein, we heartily invite friends at home and abroad to visit our company to give us instructions for our mutual development.