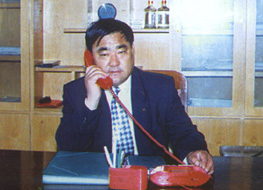 Hebei lixian yangfan fine chemical factory is situated in the triangle region of Jing-jin-tang. The company abuts jingguang railway, jingshen express way, jingjiu railway, 106 national highway, shuohuang and baocang railway, we enjoy good position and convenient transportation.
Our company are mainly engaged in the production and sales of chemicals, we have 800 employees, the fixed assets has reached 1 hundred million yuan. Basing on the spirit of "Honesty Reality Exploitation Aggressiveness ", we will look for the best economic and social benefit.
The chairman & general president Li Qingbai owns special personality, such as innovation, enterprising, he owns broad insight and clear thought. He handle affairs fairly and is a honest man.

Our management idea: For co-development, we are keeping open house to welcome friend to cooperate with us.
Wrote by Zhang Rongqing

Wrote by Liao Hansheng
---